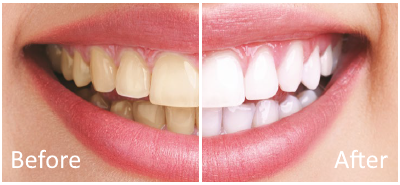 There's never been an easier way to have a younger-looking smile than to whiten your teeth with our Frisco dentist. Philips Zoom! professional teeth whitening is clinically proven to whiten up to eight shades in just 45 minutes, reversing stains from food and drinks, aging, even discoloration from some types of medication! Thanks to the light-activated technology, you can see dramatic, instant results in less time than your lunch break and you'll leave our chair with an instantly brighter, more confident smile.
How it works:
Your treatment starts with our dentist checking your current shade, so you can both see the dramatic difference after your treatment is complete.
We prep your mouth for whitening and apply a layer of advanced whitening gel to your teeth.
To speed up the whitening process, we'll shine our WhiteSpeed blue LED lamp onto your teeth. This accelerates the whitening, plus the lamp's variable settings ensure you'll get a comfortable experience.
This is repeated three times – and is completed in just 45 minutes!
Once you've reached your desired shade, we will apply our post-treatment gel to help protect enamel and reduce sensitivity.
Before you leave West Frisco Dental and Implants office you'll receive customized whitening trays and a take home whitening kit, which is included in the price of your treatment. This way, you can top-up the brightness of your smile whenever you want to!
Is teeth whitening safe?
eovcharenko
2020-11-19T04:50:05+00:00
Yes, teeth whitening is safe if you follow each product's guidelines carefully. Some whitening products can irritate gums, or leave you with sensitive teeth, so it's recommended that you speak with a dental professional if you want to brighten your smile.