Are you looking for a durable and reliable option for replacing your missing teeth? Let's face it. When it comes to your own natural teeth, there is no alternative as strong or as durable. However, at our Frisco dental office, we offer you the next best thing! Dental implants. Gone are the days when dentists would replace missing teeth with removable dentures or bridges. Now, dental implants are available that look, feel and function just like your own teeth!
What is the Process for Getting Implants at West Frisco Dental?
Getting a naturally beautiful smile with dental implants can be a pretty straightforward process if you are in the hands of professionals. Here's how the overall process works:
Phase 1. Clinical Evaluation and Treatment Planning
Our patients get to meet both doctors as part of the implant planning process. This alone makes our practice unique: our implant surgical specialist and implant restorative specialist work together as a team in one practice.
During the initial implant consultation, Dr. Natalia Ovcharenko (Dr. O), our implant surgical specialist in Frisco, will go over your medical history and make sure that you are in good health for the implant placement procedure. Since dental implants can result in surrounding bone loss if gum disease is present, Dr. O will thoroughly evaluate your gum health as the next step.
The final step in this consultation process is an evaluation of the area where the implant needs to be placed. Dr. O will examine the bone in this area by means of regular x-rays and a 3-D (cone beam) scan if needed. During this step, it is Dr. O's goal to make sure that your future implant will be placed at the perfect position for the best possible outcome. Dr. O will also educate you on how to prevent future problems with your dental implants and how to take the right steps from the beginning.
Dr. Victoria Ortiz-Parsons (Dr. Ortiz), our implant restorative specialist in Frisco, TX, will focus on your restorative needs during the initial consultation. First, Dr. Ortiz will evaluate the way you bite and how well your chewing muscles function. Next, Dr. Ortiz will examine all your teeth for any problems. During the last step of the consultation, Dr. Ortiz will focus on the area where she will be putting in implant crowns/bridges.
During this consultation we will invite you to discuss how you would like your teeth to look once the process is over. We like to think about this consultation as an opportunity for you. If you want to change anything about your smile, this is the time to let us know. The entire planning process will be focused on the desired end result. For example, if you always wanted your teeth to be straighter or to show more when you smile, it is crucial that you tell us during this consultation phase.
Why are there so many steps involved in the planning process?
Dental implants are considered a permanent solution for tooth replacement. This means that after the process is over, it is very difficult—or even impossible—to make changes such as making teeth straighter. For that reason it's crucial to consider all possible variables before the process starts. We believe that meaningful consultations with patients that seek dental implants result in happy patients with their expectations met, and a happy dental team that enjoys providing quality dental care to our patients.
But don't worry—we make these consultations a breeze!
Dr. O and Dr. Ortiz will spend about 1 to 1.5 hours each with you during the initial consultation. We value your time, and we also value the trust you have in us. We simply want the best outcome for every patient at our dental practice.
Phase 2. Implant Placement
After creating a detailed plan and educating our patients, we proceed with the placement of the dental implant, the metal "screw" that will support the crown (which will be created in the next phase).
The procedure can be done with different levels of sedation in order to put you at ease if needed. Dr. O always makes sure that you don't feel anything before she places the dental implant into the jaw bone. The procedure takes about an hour, and recovery after the surgery is usually much easier compared to recovery after tooth extraction. It takes 3 to 4 months to allow your bone to heal completely around the implant. Not to worry: we will offer you several options to choose from to temporarily replace missing teeth as your implant is healing.
After Dr. O does the final check on the implant, she will give you the green light to proceed with Dr. Ortiz . In this next phase, you will be getting a tooth placed on the dental implant.
Phase 3. Dental Crown Fabrication and Placement
This is the phase where you get your tooth back! Usually, for back teeth the process is pretty fast. Dr. Ortiz  will make a mold, and send it to the dental laboratory we trust; 3 to 4 weeks later, you will come in for the placement of your final crown.
For front teeth, we always highly recommend taking the step of molding your gums around a new implant-supported tooth. Gums around the front teeth are more delicate when it comes to looking natural. We want the implant tooth to look like it is coming out of your gum, so it looks just like your own tooth. In order archive this natural look, we put in a temporary crown that is made out of plastic. Yes, at this point you will have the tooth back.
Every couple weeks, you will come back to see Dr. Ortiz for a quick appointment, so she can gently guide your gums into their normal position. Consider this step a test drive of your final crown. We can do adjustments to this crown if you want your tooth bigger or smaller, a different shade, or a different shape. Since this is a temporary crown, we can modify it to achieve the perfect fit and look that you desire. This process on average takes about 2 to 3 months.
Once Dr. Ortiz is happy with your gum shaping, and you have a good idea of what you want your final crown to look like, we are ready for the final impression. After the final mold is taken, 3 to 4 weeks later you get your pretty, porcelain crown!
Phase 4. Maintenance
This phase is the final and most important step. We have to see you for cleanings every 3 to 6 months, depending on your needs, in order to keep everything clean and to keep an eye on your oral health. We like to catch any possible problems early, because they are usually easier and less expensive to fix.
That's it. You are now a proud owner of a dazzling smile powered by dental implants!
Sounds like quite a bit of work? Yes, it is a process that requires careful and detailed planning of the final results before it is even initiated. We want your dental work to last as long as possible, and we are willing to take extra time necessary in order to create the plan that will be the best for you exclusively.
If you would like to know more about dental implants, please keep reading.
Before placing dental implant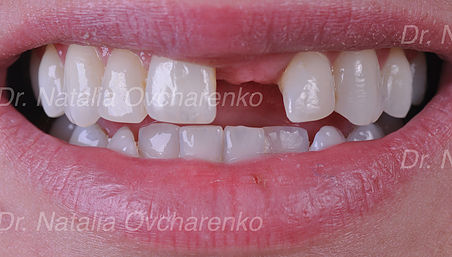 After placing dental implant and crown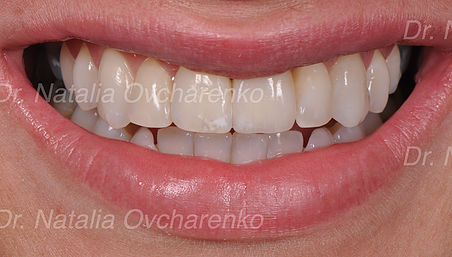 What is a Dental Implant?
A dental implant is a screw-shaped metallic fixture made up of titanium alloys that is surgically inserted into the jawbone to serve as a replacement root. When an implant is inserted, it forms a secure bond with the surrounding jawbone. As a result, an implant provides a solid foundation over which one or more artificial teeth can be attached to replace missing teeth. This is why dental implants have become the most preferred tooth replacement option among patients and dentists worldwide. According to the American Academy of Implant Dentistry (AAID), about 3 million people in the United States have dental implants, and this number is growing exponentially each year.
Who Can Benefit from Dental Implants in Frisco, TX?
At West Frisco Dental, we recommend dental implants for the management of the following dental problems:
Getting Rid of Old Dentures – If you are not happy with the fit and comfort of your removable dentures, then our dentists at Frisco can help you get a brand new, healthy smile with a dental implant-supported prosthesis. The prosthesis can be fixed or removable, depending on your needs and desires.
Replacement of a Single Missing Tooth – If you have lost a single tooth, we will replace it by using an esthetically pleasing porcelain crown attached to an implant.
Replacement of Multiple Missing Teeth – Our Frisco dentists can use just one implant to replace up to 3 or 4 missing adjacent teeth with an implant-supported fixed bridge or an overdenture.
Complete Tooth Replacement – If you have lost all teeth in either your upper or lower jaw, then we will replace all the missing teeth by using an all-on-four prosthesis, which uses just four implants to support a complete fixed bridge. In contrast to regular dentures, all-on-four implant-supported bridges offer better esthetics, speech and chewing efficiency.
What are the Benefits of Dental Implants?
Dental implants offer several benefits over conventional tooth replacement options like dentures and bridges. Let's take a look:
Esthetics – Dental implant-supported prostheses offer the best esthetics among all tooth replacement options. This is because esthetically pleasing porcelain or zirconia crowns or bridges can be used with dental implants, which look virtually identical to your own teeth. Dental implants allow you to get pearly white teeth, restoring your smile and self-confidence.
Durability – Dental implants are the next best thing to natural teeth. If looked after properly, you can expect your implants to serve you for many years. Research has shown that the 10-year success rate of dental implants is more than 97%.
No Bone Loss – If removable dentures are worn for a prolonged duration, they exert direct pressure on the underlying bone and result in accelerated bone resorption. Therefore, removable dentures cannot be regarded as a long-term tooth replacement option. In contrast, dental implants do not cause bone resorption. In fact, they promote bone formation in their vicinity through the process of osseointegration.
No Dietary Restrictions – Dentists often instruct their patients not to eat hard or sticky foods with dentures or fixed bridges, as it can result in their dislodgement. There is no such restriction with dental implants. You can enjoy all your favorite foods, as dental implant-supported prostheses offer excellent chewing efficiency that is quite close to that offered by natural teeth.
Speech Efficiency – Denture wearers, especially those wearing complete dentures, often find it difficult to pronounce words clearly, as dentures are not stable within the mouth. Dental implant-supported prostheses remain firmly attached to the implants, thereby improving speech issues significantly.
Tooth Conservation – One of the problems associated with dental bridges is that they need to be placed over the natural teeth by removing a significant thickness of the healthy tooth structure. Dental implants eliminate this problem, as they gain their support directly from the underlying jawbone and do not require the sacrifice of the natural tooth structure.
Safety – Dental implants are one of the safest tooth replacement options currently available. This is because the implants are made from titanium alloys, which are known for their excellent safety and compatibility with the human body.
Despite their advantages, dental implants can never be as good as your own teeth. This is because our natural teeth contain nerve endings that can sense high temperature and pressure and prevent excessive damage. Moreover, natural teeth contain a system of fibers that serve as a shock-absorbing mechanism. These fibers actually dampen the force of any impact or injury, thereby preventing the tooth as well as the underlying jawbone. This is why at Frisco Dental we recommend that you look after your natural teeth through regular brushing, flossing and dental checkups. Please visit your Frisco dentist regularly so that we can make sure that you retain your natural teeth and beautiful smile throughout life! A little effort in terms of oral hygiene and maintenance can go a long way in ensuring excellent dental and overall physical health.
So, what are you waiting for? Visit us today or book an appointment. A beautiful, healthy and long-lasting smile is awaiting you at West Frisco Dental and Implants! Happy smiling!